Cloud and virtualization made easy for your business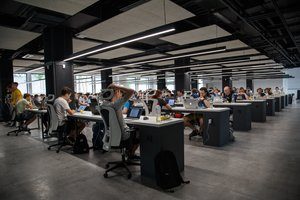 The Cloud is more than a buzzword…it's an epic shift in business efficiency and leverage. We're experts in transitioning legacy systems to the Cloud and can help your business create a TCO Cost/Benefit Analysis and procure the best cloud Provider.
Why Work With Us?
We already understand your technology from the ground up
We know IT, we know Cloud Computing, and most importantly, we know your business
Single point of contact: We manage all escalations
We tell you the truth. All providers are not created equal? We'll let you know
We'll be here, long after the supplier sales person
We're invested in your long term success
We provide you choice in choosing the best cloud services providers
TTM is a single source solution provider for all of your cloud service's needs. Talk to us today about how to implement a cloud service strategy:
Contact Center/IVR/ACD/Dialer
Your call center is absolutely critical to the customer experience. Our portfolio of contact center solutions empowers organizations to execute more effectively. We work with you to develop a needs requirement and compare that to the capabilities of our providers. In the end you will get the best platform for your business. Click here to check out our video on Contact Center Solutions!
Collocation and Data Center
Picking the right data center is critical as you should never need or have to move the site down the road as your requirements evolve. We've helped many clients determine the scope of requirements and select the perfect data center to fit those requirements. We have over 40 collocation providers representing over 200 facilities globally in cloud technology. TTM can help your business strategize, source and implement the best colocation solution for your business.
Hosted PBX/Unified Communications/CCaaS
How do you pick from a market place of over 1000 providers? TTM has put in place several key requirements on any cloud UC provider we work with. Because of this we've limited the field to just over 30 providers. These providers often have very unique capabilities and we work diligently to match your requirements with the right partner.
Cloud SaaS and IaaS
Need a virtual infrastructure? We've got you covered. Our portfolio has a number of proven SAAS and IAAS providers. We work with your team to secure a needs requirement and then we work with our providers to ensure that we are providing the very best one for your requirements.
Audio, Web Conferencing
Businesses collaborate and share knowledge every day. Let us connect you with the most flexible, secure and feature-rich web and audio conferencing products on the market.