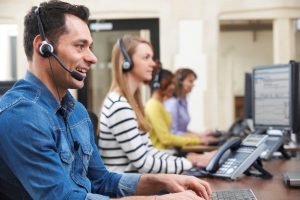 The quality of your customer service has a significant influence on how clients feel about your business, so improving your customer communications is always a strategic decision. Contact Center as a Service — CCaaS — will enhance your customers' experiences by providing more efficient, unified communications systems, and your business will also reap the benefits. Here are the three primary perks of switching to this centralized system.
What Benefits CCaaS Offers Your Business
1. Better for Your Budget
Unified communications solutions require less equipment for your contact center than traditional communication services, as everything is accessed online. This means a lower IT cost because you won't have to pay for initial equipment or ongoing maintenance and repairs. Plus, CCaaS systems use less power than traditional communications systems because so little equipment is needed. This customer service model also offers flexible payment options. A monthly rate for your services can be set, or you can choose to pay as you go, only paying for what you need when you need it. The latter option allows you to affordably access programs you don't use frequently but still need, instead of paying a monthly subscription for a service you've barely used.
2. Enhanced Efficiency
These systems create a user-friendly, comprehensive system for your agents, leading to quicker resolution times and a better customer experience. This enables a high volume of calls to be managed by fewer agents than older approaches. You'll also get extensive data regarding the contact center's operations, like agent productivity levels and quality of service, that will help you with workforce optimization strategies.
3. Adaptable Approaches
A Contact Center as a Service model gives you the freedom to closely control your services and costs. You'll be able to choose individual services to create your customized bundle, instead of having to choose from pre-arranged bundles that are pricey and include services you won't use. This gives you unprecedented control over your service and your budget, as you can tailor your bundle to fit your budget. Plus, your services can be adjusted at any time to accommodate changing business needs, such as removing agents during slow months or adding new services as your business grows.
If you're ready to upgrade to CCaaS, contact Total Telecom Management in Roswell, GA. Experienced consultants will work closely with your IT team to develop a customized, efficient unified communications solution that's ideal for your business. With over 200 partnerships with leading IT and telecom companies, they'll find the most competitive pricing on cutting-edge solutions. Their extensive services cover the scope of your IT and telecom needs, from workforce optimization to better customer experiences, which you can learn more about online. To begin your upgrade, call (678) 783-5252.